"The time retrieved"- About Nancy, a sister city of Kanazawa
This post is also available in:

日本語 (Japanese)

Français (French)
"The time retrieved" is the work that Takahama Mako (my wife) presented at the Asahi TV screenplay competition in 2015, but unfortunately it was refused. She writes detective novels beginning with "Detective travel of Professor Kagami Izumi; Kanazawa, Kamakura, Saint-Germain en laye" The hero of novels, Professor Kagami Izumi began his trip to Kanazawa.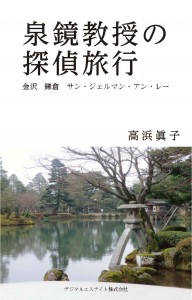 This is the cover of "Detective travel of Professor Kagami Izumi; Kanazawa, Kamakura, Saint-Germain en laye"  (Kotoji Tôro in Kenroku) 1
Apart from that, Nancy is a beautiful city. At Place Stanislas, world heritage, the town hall of Nancy, the museum of fine arts and the national opera of Lorraine surround it and present a beautiful appearance.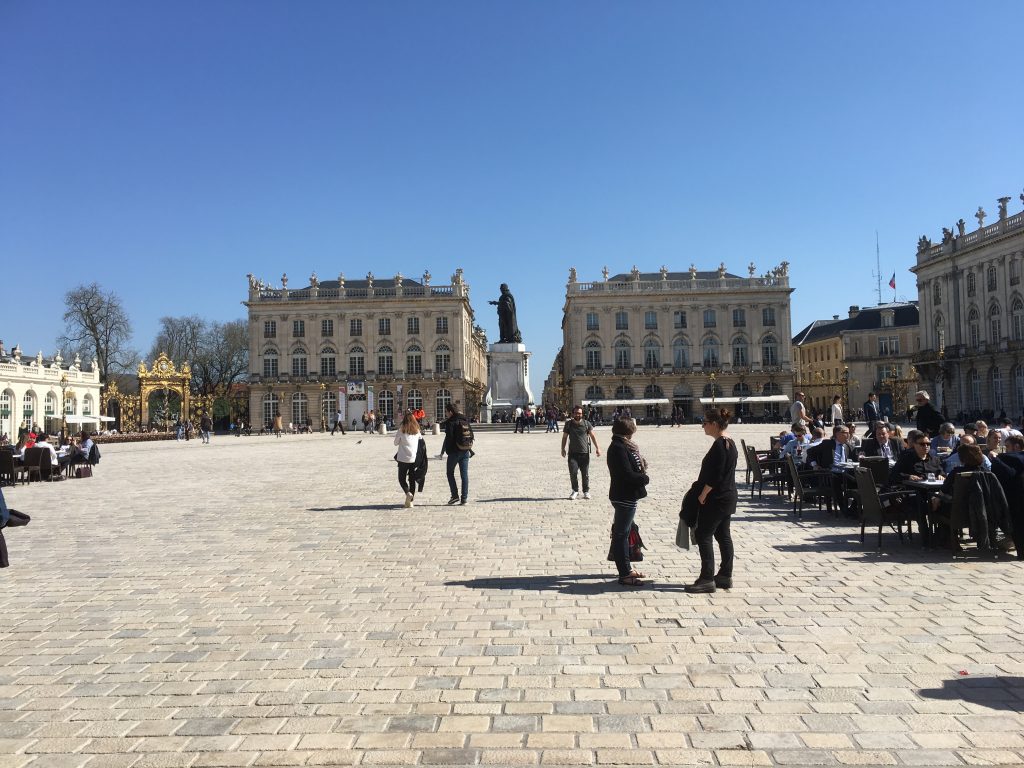 Place Stanislas
In the rue Henri Poincaré, which connects the square and the railway station, you can see the Chamber of Commerce with a beautiful door of Art Nouveau.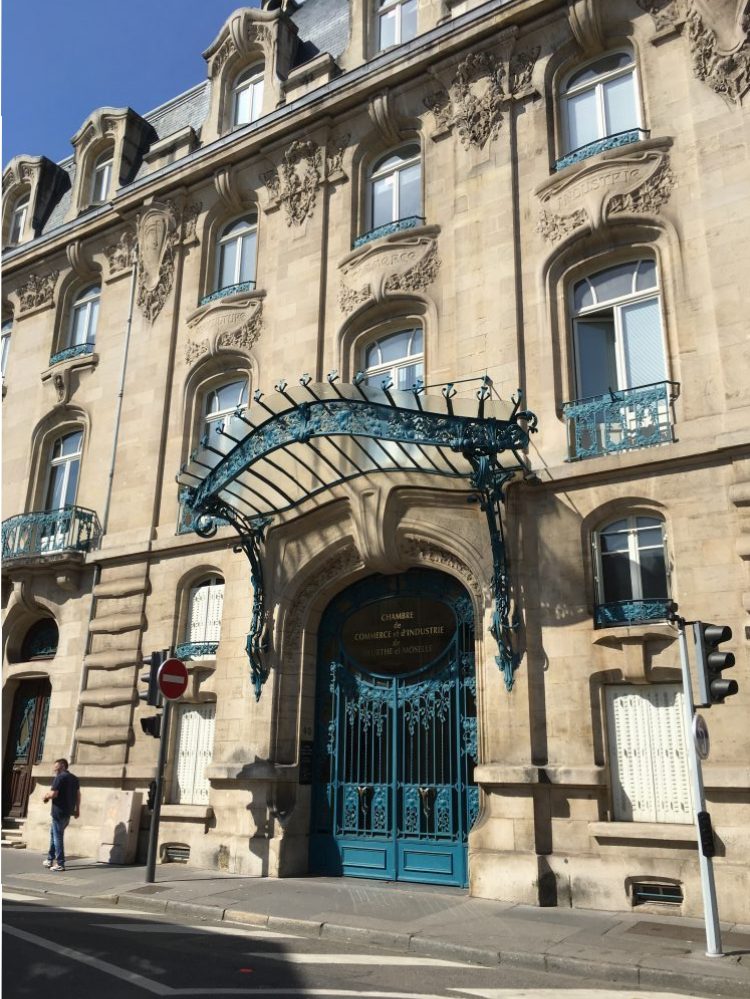 Chamber of Commerce and Industry of Meurthe-et-Moselle
The door of art nouveau expresses the school of Nancy.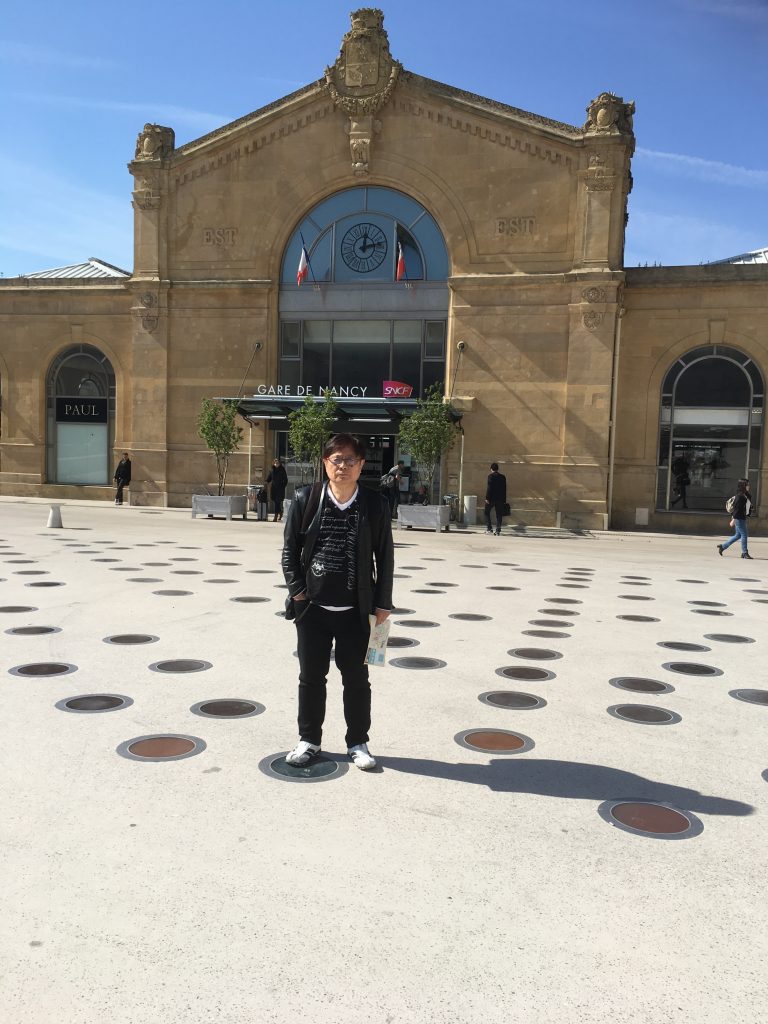 Hitoshi Nakata in front of the SNCF train station of Nancy
The sentences I show below are Dozo Domo's article "KANAZAWA WALK IN NANCY". [Ref] This site publishes very attractive articles on exchanges between Japan and France. 
I'll translate only the first paragraph.
les villes jumelées
Kanazawa est jumelée avec Nancy depuis 1973. En 1998, pour commémorer les 25 ans du programme d'échange, la ville japonaise a offert une lanterne, aussi appelée Kotoji tôrô, représentative de sa culture, à la ville Lorraine. Cette lanterne, possède une jumelle originale disposée au Kenroku-en, le jardin public de la ville de Kanazawa, considéré comme l'un des plus beaux du Japon. Le Kotoji tôrô, dont la caractéristique est d'avoir des pieds courbes et de longueurs différentes, est l'emblème du Kenroku-en.
Sister cities
Kanazawa has been twinned with Nancy since 1973. In 1998, in commemoration of the 25th anniversary of the exchange program, the Japanese city offered a lantern, also called Kotoji tôrô, representative of its culture, to the city of Lorraine. This lantern has an original binocular placed at the Kenroku-en, the public garden of the city of Kanazawa, considered one of the most beautiful in Japan. The Kotoji tôrô, whose characteristic is to have curved feet and different lengths, is the emblem of Kenroku-en.
At the end I show the photo(with their consent)that the sisters of the French restaurant La Cook Mignon in the Omicho market in Kanazawa took by themselves to the Kanazawa promenade and to Kotoji Tôro.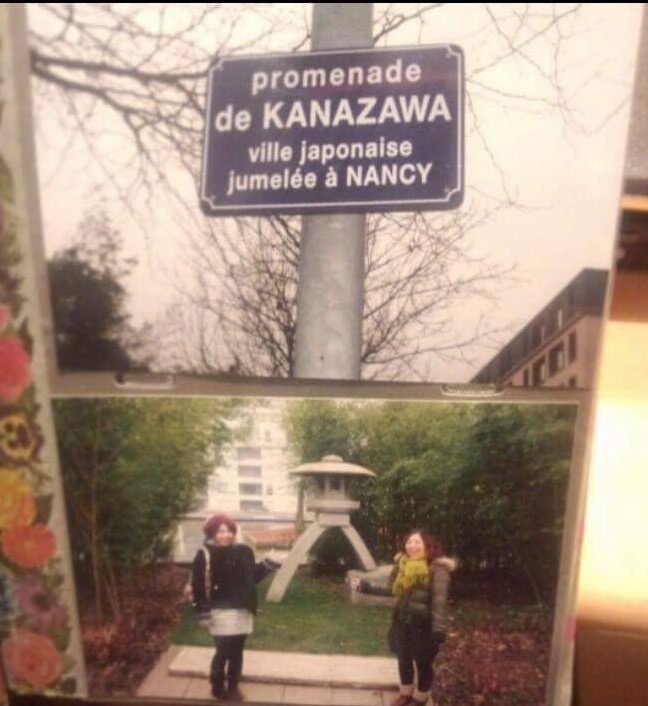 The beautiful sisters of Kanazawa stand in front of the Kotoji lantern in Nancy's Kanazawa promenade.
Notes:
koto is the Japanese zither with thirteen strings whose pins are plucked with tabs. Kotoji is the rope bridge. [/ Ref]

Since Professor Izumi was doing research related to France, Mako Takahama, thinking of the story linking Kanazawa and France, she noticed Kanazawa's relationship with Nancy, his sister city. (When she failed, she discovered that the scenario that the Japanese television stations wanted was not a story that required foreign scenes abroad, especially recent television is affected by the devaluation of the cost However, now that Japanese travel abroad is really widespread, what limits the scene only in Japan?
By the way, the scenario was like that.

Sophie at the age of sixty-seven who lives in Nancy in memories of forty-five years ago with a Japanese, named Kyosuke Tateyama. At the time, Tateyama was ceramist delegated by the city of Kanazawa, Japan, in preparation for the cooperation of the sister city of Nancy, Sophie was receptionist of the Museum of the School of Nancy. They fell in love at that time. Tateyama who visited three years later in Nancy was informed that Sophie had left her job and had married.(See the page of "The time retrieved")

In March 2017, taking advantage of the chance to stay in Paris in LIVREPARIS, my wife and I decided to visit Nancy. From the Gare de l'Est train station in Paris to Nancy, it is about 90 minutes by TGV, this will be a comfortable distance for a day trip. As I have already written, Nancy is a sister city of Kanazawa. [Ref] Details on the twinning of Kanazawa and Nancy are here. This is an explanation of sister city alliance in English. And This is Kanazawa City's document of sister city alliance in Japanese.  ↩
---