"The Beyond of the Labyrinth" is published
This post is also available in:

日本語 (Japanese)

Français (French)
The print book of "The Beyond of the Labyrinth" by Mako Takahama is published.
To view the printed book (print on demand) go to the Amazon page by clicking the image below. It is a mystery novel that exceeds 266 pages.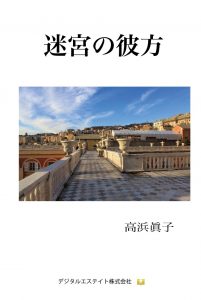 synopsis
Yoshisaburo Tatehayashi, a freelance journalist, was killed at IF Island in Marseille, France. Haruo Miyata, his friend had received a mysterious postcard from Tatebayashi saying he could rot away wandering away in a giant maze. Miyata who is a researcher of Alexander Dumas who wrote "The Count of Monte Cristo", feels the fate of the hero Edmond Dantes who is wrongly accused of a crime and imprisoned on the Isle of If. He visits France to investigate the truth of the murder, counting on Sarria Michiki, a former friend and researcher of Cézanne who lives in Aix-en-Provence.
---
I show you a movie of the sea of Marseilles and Isle IF in 2011.
I presented Marseilles and Isle IF(in Japanese ) in my blog.
---