The time retrieved
This post is also available in:

日本語 (Japanese)

Français (French)
The time retrieved
Mako Takahama
---
To view the printed book (print on demand) go to the Amazon page by clicking the image below.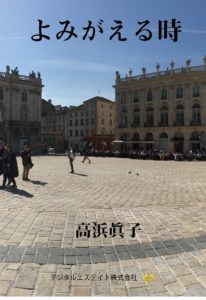 synopsis
Sophie at the age of sixty-seven who lives in Nancy in memories of forty-five years ago with a Japanese, named Kyosuke Tateyama. At the time, Tateyama was ceramist delegated by the city of Kanazawa, Japan, in preparation for the cooperation of the sister city of Nancy, Sophie was receptionist of the Museum of the School of Nancy. They fell in love at that time. Tateyama who visited three years later in Nancy was informed that Sophie had left her job and had married.
Forty-five years later, Françoise, Sophie's little girl, came by chance to study the short term in Kanazawa with her friend Michelle. During three weeks of training, two students will grow by touching the charm of Kanazawa and its traditional crafts. When the course approached at the end, Françoise heard of the famous ceramist named Ritsuzan. She visited the ceramic art workshop of Mount Utatsu with the couple of the host family to determine the possibility that could Ritsuzan. This is Tateyama himself who left Nancy, the dish of Kutani left to his grandmother Sophie, forty-five years ago. Tateyama could not forbear a strong instinctive embrace to Francoise knowing that she is the granddaughter of Sophie.
Sophie heard the news of Tateyama of her little girl returned to Nancy after completing the course. She had raised Cecilia, who was Tateyama's daughter as a child of her husband Christian, but she was aware of a little misunderstanding for the first time.
Tateyama who remained unmarried headed for Nancy to see Sophie again, impatiently. He found Sophie, saw Cécile for the first time face to face and could pray to the portrait of Christian, his adoptive parent.
Tateyama, happy to contact the happy family of Sophie, returned to Kanazawa where Hana, niece of his late wife, whom he allowed as the only disciple, was waiting.
---
The main characters
Kyosuke Tateyama …… ..ceramist named Ritsuzan
Yuko ……. ……. ……. ……. Kyosuke's sister
Taé ……. ……. ……. ……. Sister of the deceased wife of Kyosuke
Hana ……. ……. ……. ……. Daughter of Taé
Sophie ……. ……. ……. ……. Old lover of Kyosuke
Cécile ……. ……. ……. ……. Daughter of Sophie
Françoise ……. ……. ……. ……. Granddaughter of Sophie
Christian ……. ……. ……. …… .mari died of Cécile
Michelle ……. ……. ……. ……. Girlfriend of Francoise
Mr Matsumoto ……. ……. ……. ……. Spouse of the host family
Mrs. Matsumoto ……. ……. ……. ……. Wife of the host family
The Japanese teacher
The French interpreter
Pottery Craftsmen
The chef of the French restaurant
---
Trial reading
Please enjoy "The time retrieved" in preview.
This preview is allowed to use BiB / i (EPUB READER on your Website) by Mr. Satoshi Matsushima.
---
 Published by the e-book
---