On the literary nature of Alexandre Dumas' "Grand Cooking Dictionary" – On Sot-l'y-laisse
This post is also available in:

日本語 (Japanese)

Français (French)
On sot-l'y-laisse
Regarding cooking recipes, I recently use many iPhone apps for examining it on the net, so I use it conveniently. As for turkey, I was good at looking up at Cookpad, but because I then in Paris, I made reference to Alexandre Dumas's " le Grand Dictionnaire de Cuisine" (Grand Culinary Dictionary). More exactly I opened  PDF file on my iPad. I tried to examine the item of turkey in it. This book was full of ridiculous  (interesting ) stories about gastronomy rather than recipe books, and in the turkey section also. Let me introduce these phrases because it's fantastic and amusing.
---
Although the flesh of the turkey, especially cold, is excellent, full of flavor, and preferable to that of chicken, there are gourmets who eat absolutely nothing but so-l'y-laisse, etymology: fool who leaves it. One day Grimod de la Reynière, the uncle of the famous Comte d'Orsay, who for twenty years gave fashion to France and England, one day Grimod de la Reynière being in a financial tour surprised by the night or By bad weather, or by one of those insurmountable obstacles which force an Epicurean to stop at a village inn, ask the host what he can give him for supper. The latter confesses to him with shame and regret that his pantry is completely empty. A great fire shining through the glass panes of a glass door, which is none other than that of the kitchen, attracts the attention of the illustrious gourmand, who sees with astonishment seven turkeys turning to the same spit.
"How dare you tell me that you have nothing to give me for supper," exclaimed Grimod de la Reynière, "when I see seven splendid turkeys at the same pin, which have reached their degree of cooking?"
"That is true, sir," replied the host, "but they are restrained by a gentleman of Paris who has arrived before you."
"And this gentleman is alone?"
" Alone."
"But is this traveler a giant?"
"No, sir, he is not much bigger than you."
" Oh! Oh! Tell me the number of this fellow's room, and I shall be very awkward if he does not give me one of his seven turkeys. "
Grimod de la Reynière was lighted up and led to the traveler's room, where he found him near a table set up, seated in front of an excellent fire, and sharpening each other two cutting knives.
"By god! I am not mistaken, "cried Grimod de la Reynière," it is you, my son!"
"Yes, father," replied the young man, bowing respectfully.
"Is it you who have seven turkeys for your supper?"
"Gentleman," replied the amiable young man, "I understand that you are painfully affected to see me manifesting sentiments so vulgar, and so little conformable to the distinction of my birth, but I had no choice of food; There was only them in the house.
"By god! I do not reproach you for eating turkey in the absence of poulardes or pheasants; When traveling, we are obliged to eat what we find, but I reproach you for having seven turkeys on your spit only for yourself.
"Sir, I heard always you telling to your friends that there was really nothing more than so-l'y-laisse in the turkey without truffle, then I had seven turkeys put on the spit for fourteen so-l'y-laisse."
"That seems to me a little expensive for a boy of eighteen, but I can not say that it is unreasonable." replied his father, paying homage to the intelligence of the young man.
Avignon has always been a city where we have eaten wonderfully, it is an old tradition in the days when Avignon was a pontifical city.
A respectable president of the city court appreciated the qualities of the turkey. He once said: "By my faith, we have just eaten a superb turkey, it was excellent, stuffed with truffles to the beak, tender like a chicken, fat as an ortolan, perfumed like a thrush. We have left only the bones.
"How many were you? " A curious one.
"We were two, sir!" He replied.
"Two? …"
"Yes. The turkey and me."
(translated by me)
See the original french version here.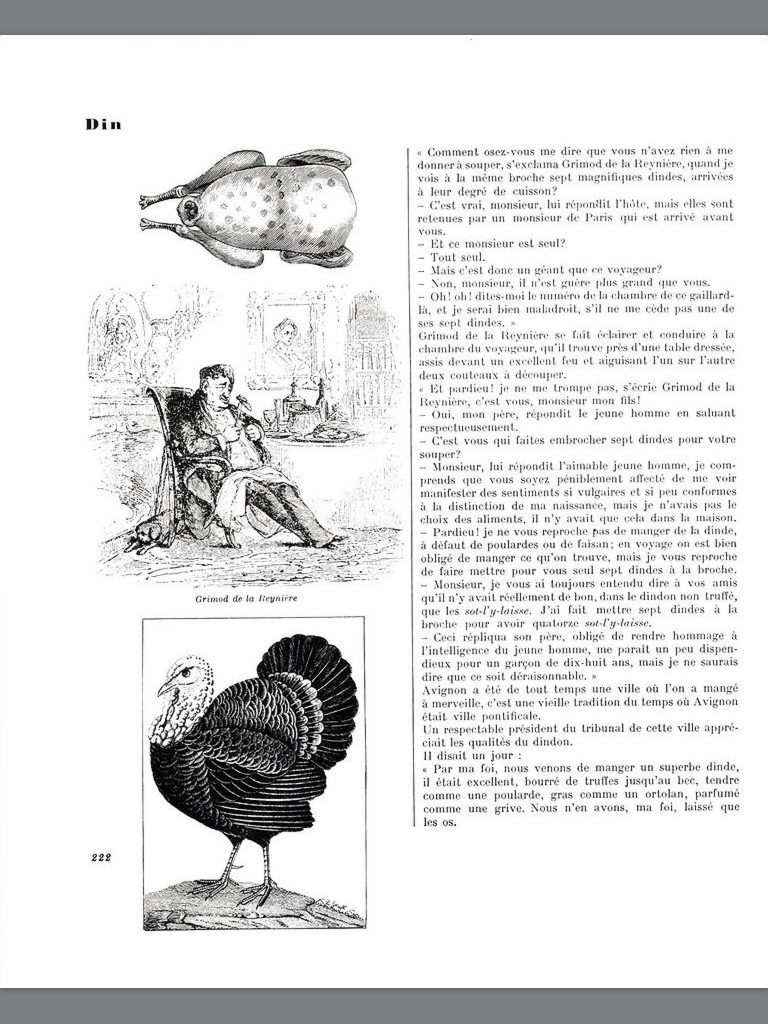 While reading such an episode, Dumas' cooking dictionary eventually did not serve as a recipe for cooking at all, but it may be said that such a thing is also a pleasure of travel.
10th August 2014
---