The print book of "The time retrieved" is published
This post is also available in:

日本語 (Japanese)

Français (French)
The time retrieved by Mako Takahama is published today.
---
To view the printed book (print on demand) go to the Amazon page by clicking the image below.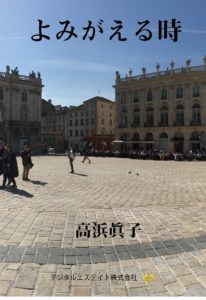 synopsis
This book is a movie script of a truly painful love story born of the fact that Nancy City of France and Kanazawa City of Japan are sister cities.
Sophie at the age of sixty-seven who lives in Nancy in memories of forty-five years ago with a Japanese, named Kyosuke Tateyama. At the time, Tateyama was ceramist delegated by the city of Kanazawa, Japan, in preparation for the cooperation of the sister city of Nancy, Sophie was receptionist of the Museum of the School of Nancy. They fell in love at that time. Tateyama who visited three years later in Nancy was informed that Sophie had left her job and had married.
See the detail page.
---