This post is also available in:

日本語 (Japanese)

Français (French)
The Learned Ladies of today
Five acts
adaptation of Molière's play "The Learned Ladies of today" (1672)
Hitoshi Nakata
comment
"The Learned Ladies of today" is the adaptation of the comic play "The Learned Ladies" by Molière, French actor, playwright and theatrical organizer in the 17th century to revive it as a piece of Kyôgen, traditional Japanese art. 
To purchase a printed book (print on demand), click on the image below to jump to the URL.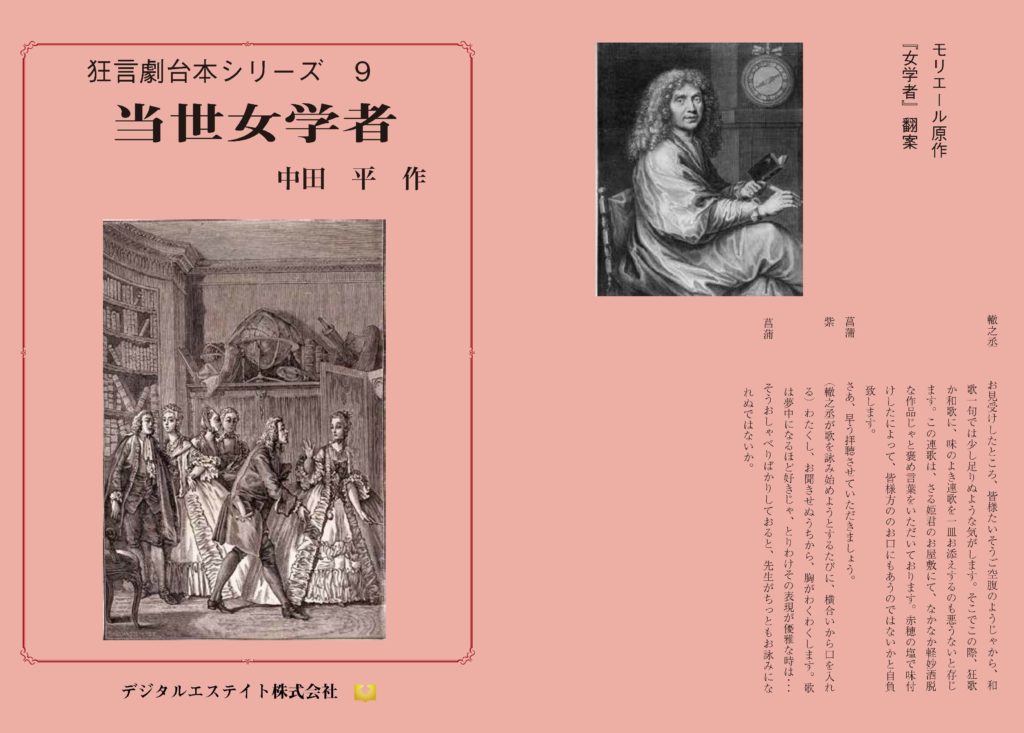 ---
Trial reading
Please enjoy "The Learned Ladies of today" in preview.
This preview is allowed to use BiB / i (EPUB READER on your Website) by Mr. Satoshi Matsushima.
---
synopsis
The scene is in Kyoto, at Kuriemon's house.
Ruri and Anzu are the girls of the Kuriemon and Ayame couple. Although Anzu intends to marry Semimaru, Ruri denies marriage, because she thinks women should devote themselves to science. Semimaru was once rejected by Ruri, and now he hopes to marry Anzu who tells him that it is necessary to persuade Ayame to advance the project of their marriage. Semimaru decides to ask for support from Ayunosuke, younger brother of Kuriemon. Ayunosuke talks to Kuriemon and receive acceptance while being prevented by Murasaki's misunderstanding. Kuriemon talks about marriage to Ayame. However, she intends to marry her daughter Anzu with Wadachi-no-suke. When Ayunosuke sees Kuriemon without telling her anything, he is disappointed by his indecision and reprimands him for being a patriarch. Learned women starting with Ayame do a waka meeting around Wadachi-no-suke. Ayame make a lot of noise affected by the performance of his waka. Saneyasu comes there by the introduction of Wadachi-no-suke. Although they are good with each other at the beginning, Saneyasu denigrates the waka made by Wadachi-no-suke and argues all of a sudden with him about his talent. Ayame announces to marry Anzu to Wadachi-no-suke. But Anzu tells her that she can not answer his love and he does not try to listen to it. The conflict between Ayame and Kuriemon and that between Semimaru and Wadachi-no-suke; what will be the fate of Anzu?