Kyôgen 8 Talbey, or The Impostor
This post is also available in:

日本語 (Japanese)

Français (French)
Five acts
adaptation of Molière's play "Tartuffe, or The Impostor" (1664)
Hitoshi Nakata
comment
"Talbey, or The Impostor" is the adaptation of the comic play "Tartuffe, or The Imposto" by Molière, French actor, playwright and theatrical organizer in the 17th century to revive it as a piece of Kyôgen, traditional Japanese art. 
To purchase a printed book (print on demand), click on the image below to jump to the URL.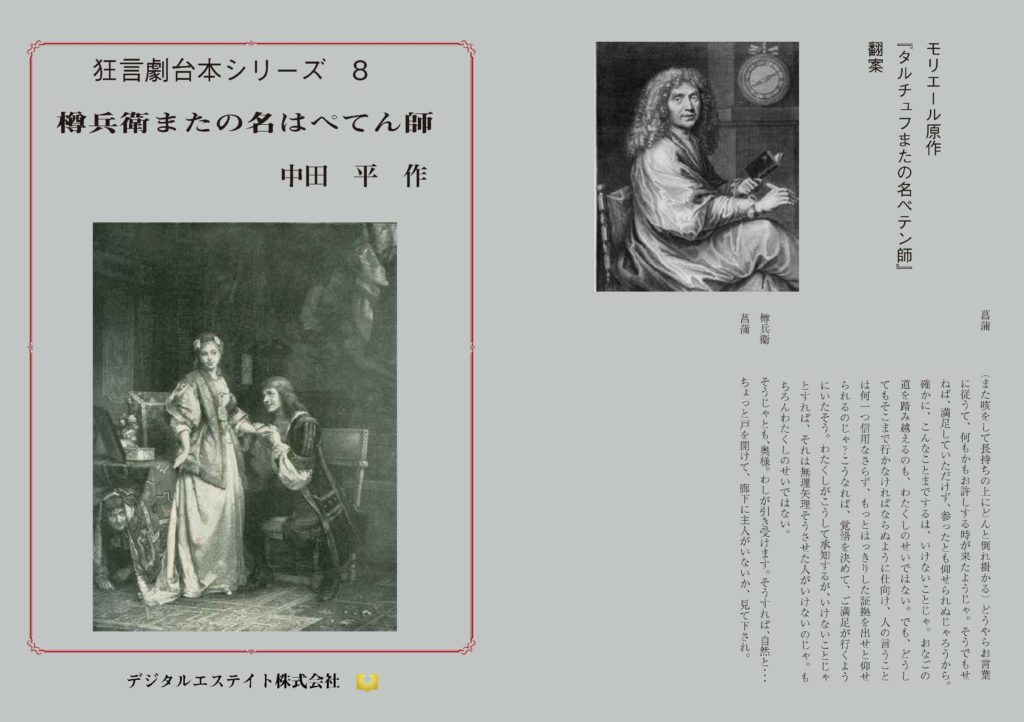 ---
Trial reading
Please enjoy "Talbey, or The Impostor" in preview.
This preview is allowed to use BiB / i (EPUB READER on your Website) by Mr. Satoshi Matsushima.
---
synopsis
Lady of Tachibana, the mother as well Ayu-no-suke, anchored in the faith, venerate like a saint Talbey that one looks like a simple beggar. Koi-no-suke, son of Ayu-no-suke, can not bear his arrogant attitude at Ayu-no-suke. Ayu-no-suke's unbelievable Talbey faith led him to try to marry his daughter Ruri and Talbey, breaking the marriage between Ruri and Semimaru. However, Talbey's true prey is Ayame, the second wife of Ayu-no-suke, who began courting her as soon as they saw each other face to face. Ayame rejected him and asked him to help the marriage of Ruri and Semimaru, instead of not telling her husband. Koi-no-suke, before heard secretly, revealed everything to Ayu-no-suke, who however was completely deceived, by the humble attitude of Talbey, drove the son out of the house. Ayame, worried, decided to show Talbey's iniquity before him. When he was alone with Ayame again, he revealed his true nature. Finally awake, Ayu-no-suke tried to expel Talbey. However, Talbey, who had already obtained the title dead, went on the offensive stance, saying, "This house is mine. It's you who must leave it!"  Well, what will happen at the end?
---