This post is also available in:

日本語 (Japanese)

Français (French)
Five acts
adaptation of Molière's play "The School for Wives" (1661)
Hitoshi Nakata
comment
"The Private School for husbands" is the adaptation of the comic play "The School for husbands" by Molière, French actor, playwright and theatrical organizer in the 17th century to revive it as a piece of Kyôgen, traditional Japanese art. 
To purchase a printed book (print on demand), click on the image below to jump to the URL.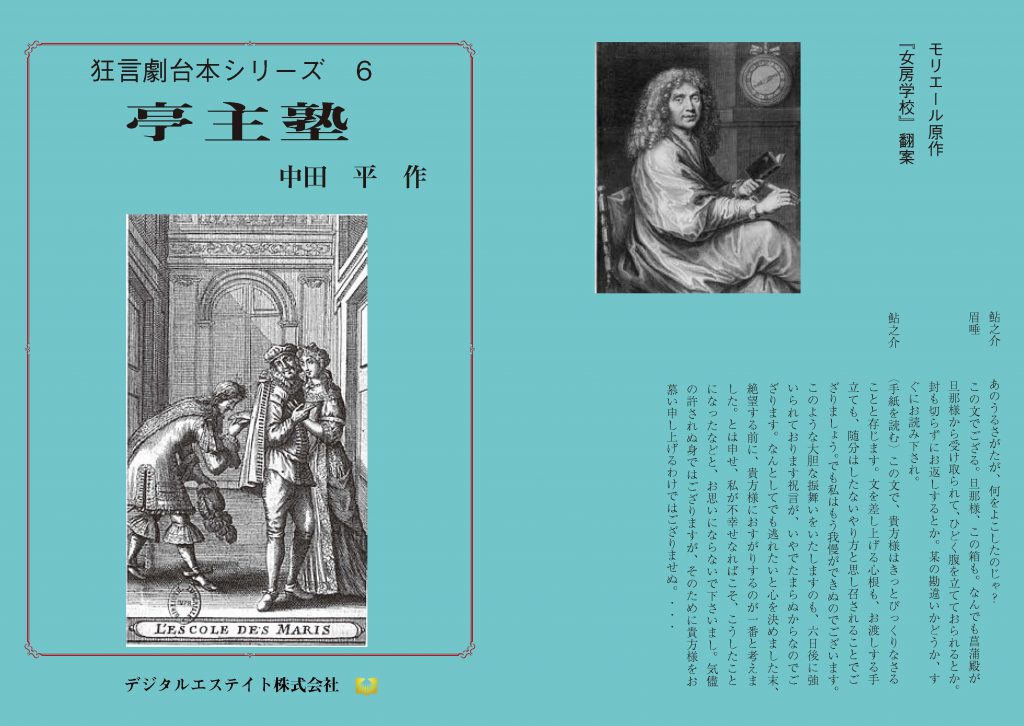 ---
Trial reading
Please enjoy "The School for husbands" in preview.
The Private School for hasbands
This preview is allowed to use BiB / i (EPUB READER on your Website) by Mr. Satoshi Matsushima.
---
synopsis
The scene is in Kyoto.
Yamakan, younger brother and Kanichi. older brother who is much older than him appear on the stage. They are contrasting personality, the ideas of the hatching of clothes are completely opposed, the maneuvers of two orphan sisters, Ruri and Ayame, are also opposite. Kanichi gives Ruri freedom and will not marry by force, but Yamakan removes Ayame's freedom, locks her in the house, focuses her on homeworking to marry her. Ayunosuke approaches Yamakan with Mayutsuba, trying to meet Ayame which he fell in love at first sight, but is embarrassed by Yamakan.
Ayame, who is in love with Ayunosuke, meditating on a project, makes Yamakan believe that Ayunosuke loves her without return and sends him to communicate her refusal. Furthermore, she tells him the lie that Ayunosuke sent a letter and makes him go to return the letter. But in reality, Ayame wrote it asking him to save her from Yamakan. As this strategy progressed successfully, Ayame met Ayunosuke and managed to say his true intention, but only Yamakan did not notice it. However, Yamakan told her to marry the tomorrow which was supposed to be after six days.
Ayame decides to die better than to marry Yamakan and makes a bold bet. Ayame makes Yamakan believe that her sister Ruri wants to marry Ayunosuke by taking the place of Ayame. And she is going to marry Ruri and Ayunosuke by asking the administrator and the scrivener to compile the oath of marriage. In the end, Yamakan is shocked to know that it is the marriage of Ayame and Ayunosuke.