This post is also available in:

日本語 (Japanese)

Français (French)
Five acts
adaptation of Molière's play "The School for Wives" (1662)
Hitoshi Nakata
comment
"The Private School for wives" is the adaptation of the comic play "The School for Wives" by Molière, French actor, playwright and theatrical organizer in the 17th century to revive it as a piece of Kyôgen, traditional Japanese art. 
To purchase a printed book (print on demand), click on the image below to jump to the URL.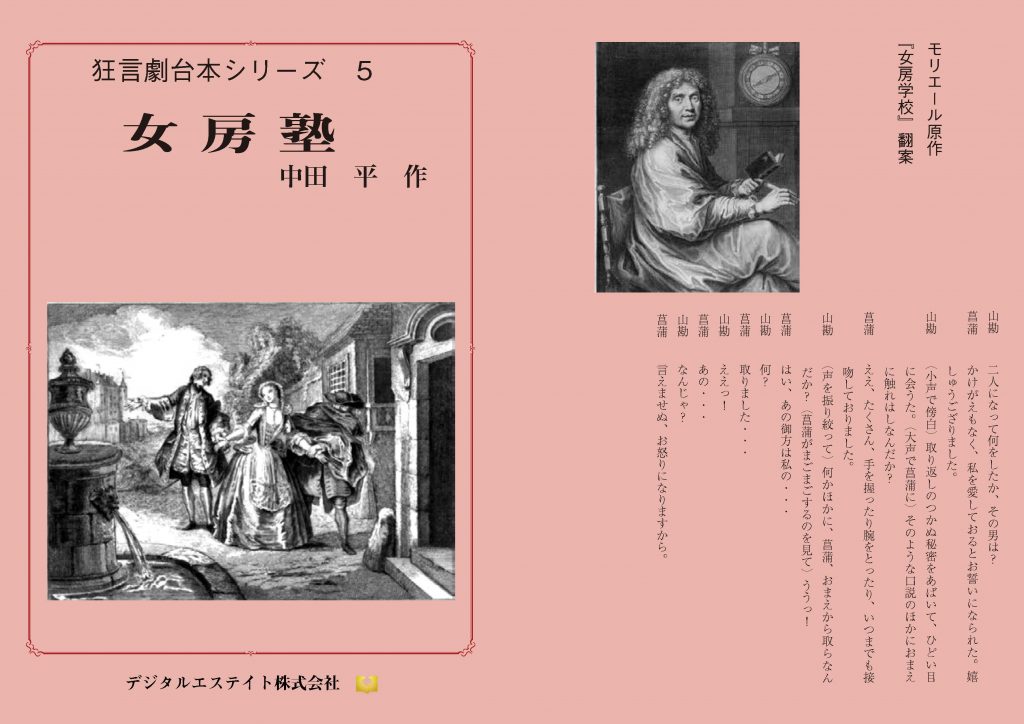 ---
Trial reading
Please enjoy "The Private School for wives" in preview.
This preview is allowed to use BiB / i (EPUB READER on your Website) by Mr. Satoshi Matsushima.
---
synopsis
Yamakan, who has just changed his name to the more aristocratic one of "Mr. Tachibana," is a middle-aged man who made fun of neighborhood husbands and would rather marry an ignorant woman than an intelligent woman.  So he decided to marry Ayame, brought up in ignorance, a recluse in a convent. Yamakan meets Koinosuke, son of Wadachinosuke (another of his friends), who fell in love with Ayame, tells Yamakan that he was able to woo the girl. Ayame, believing that her future husband is Koinosuke, expresses her gratitude, but Yamakan bluntly disdains her. Yamakan decides to rush the marriage. But, it turns out that Ayame is the daughter of Semimaru; the lovers will be able to marry, to the great despair of M. de Tachibana, who goes astray, uttering a last word.