Stage of plagiarism
This post is also available in:

日本語 (Japanese)

Français (French)
Stage of plagiarism
Mako Takahama
---
To view the printed book (print on demand) go to the Amazon page by clicking the image below.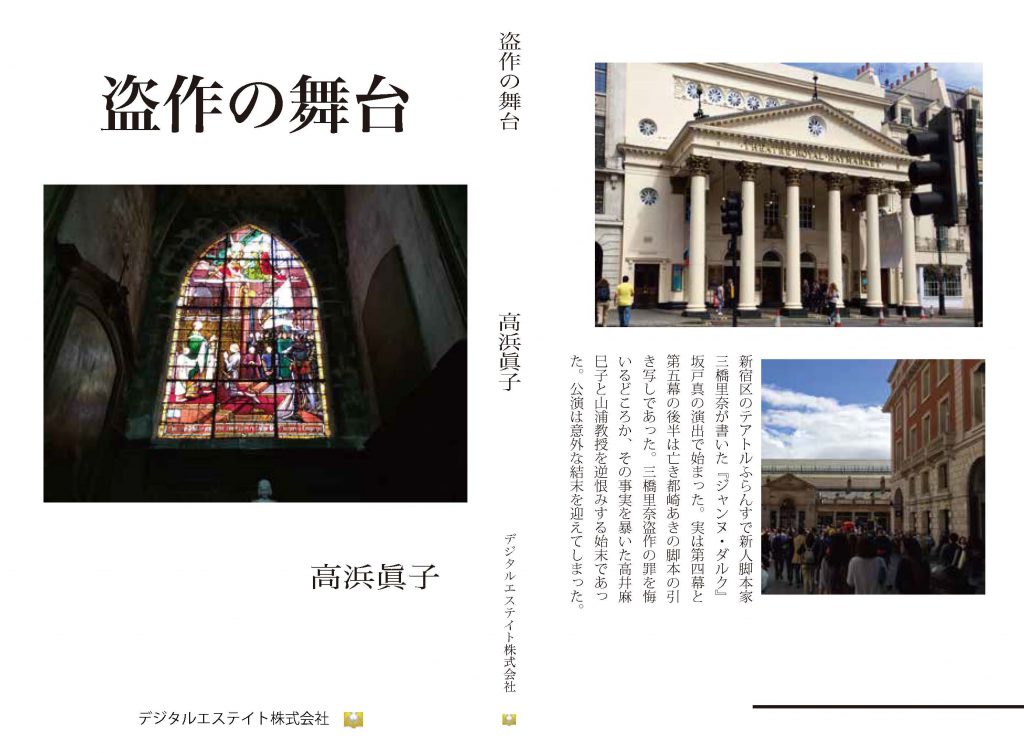 ---
synopsis
Dress rehearsal of "Jeanne d'Arc" written by a rookie writer Rina Mitsuhashi begins with the rendition of Makoto Sakade at Théâtre France in Shinjuku Ward (Shinjuku-ku), Tokyo, Japan. Sakade approached Mamiko Takai, expert playwright for consultation, because he could not accept the content of the screenplay. It, so to speak, means that the wonderful latter half is grafted by force to the unskillful first half. Sakade rewrote its unskillful first half and fixed the overall appearance somehow, but he feels something not divisible. Mamiko approached the consultation to YAMAURA, Professor of Kamakura University.
After reading the script of Mitsuhashi, Yamaura went to Theater Culture Museum for checking it with scripts of the late Aki Tozaki and found the latter half, the fourth and fifth acts is the exact copy of her early script. He asked Fuyu Tsuzaki, heritage heir who lives in Karuizawa, to permit to put the play  on the stage under the collaboration of Makoto Sakade and Aki Tsuzaki by deleting the name of Rina Mitsuhashi. The person who allowed Rina Mitsuhashi to write the script was Harukichi Sasabe, director of The Japan Theater Association and It was an open secret that Rina Mitsuhashi was his mistress.
A week has passed since the first day of the performance of "Jeanne d'Arc". Every newspaper and television pick it up every day.
However, the anger of Rina Mihashi does not calm down. Far from repenting the crime of plagiarism, she is still obsessed with her "Jeanne d'Arc."
Both Teruyama  and Sasabe who know this fact can not forgive her. Teruyama for diversion of plagiarism and travel expenses, Sasabe is about her making Seriyama her lover.
Last day of "Jeanne d'Arc", the leading actress Yuki Kawada does not appear on the stage.
Unfortunately, a new actress, Arai Yumiko, tried her substitution and safely finished the fourth act. In the fifth act,  scaffold where Jeanne d'Arc was tied suddenly fell down.The stage suffered great confusion. Rina Mitsuhashi aiming f at revived in the Jeanne d'Arc threatened Arai Yumiko and changed her role.
---
Trial reading
Please enjoy "Stage of plagiarism" in preview.
This preview is allowed to use BiB / i (EPUB READER on your Website) by Mr. Satoshi Matsushima.
---
 Published by the e-book
Click the icon below to jump to click the leader of the site.
---