Midnight Tanka
This post is also available in:

日本語 (Japanese)

Français (French)
"Midnight Tanka"
(electronic books + print-on-demand)
Printed book (print on demand) version was released.
You can buy printed books.
To purchase a printed book (print on demand), click on the image below to jump to the URL.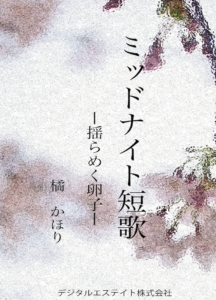 ---
Introduction
Kaori Tachibana
"Midnight Tanka" (500 yen tax included)
"Midnight Tanka – Shaking Eggs -" is a book of tanka (Japanese poem of thirty‐one syllables) and two essays written for adults. The reason for putting the word "Midnight" in front of the book of the title is that adults completely forget their daily lives at midnight, and that they would be able to temporarily play in the world of words of nightly delusion. The content of the book is Midnight Tanka (Chapter 1), the first section "Season (when)" is pointing to the landscape in the flow of nature as it is surreptitiously reflected in his eyes. Section 2 "Miscellaneous" is Tanka that do not enter "season (time)" or "love". The content of the third section "love", because it is a world of delusions, I am writing not only from the standpoint of women but also from the position of men. And you can easily understand, since it is not only a relationship between opposite sexes, but also a few homosexual love affairs. This kind of midnight tanka end with this, followed by essays of chapter 2. Adults who can afford to enjoy freely everyday and different time freely in the world of delusional language will also be one that will enrich their lives. The world wider than the narrow world, the one whose consciousness has spread will be the usual everyday life will be easy to live. Isn't it an affordable adult margin? In this world of midnight tanka sometimes fresh surprises to try and taste various emotions such as being thrilling, sometimes purely, sometimes cunningly, occasionally marveling, sometimes still seeing himself who does not yet see it Is not it a certain thing? After the trip alone to this delusing forest in the middle of the night, the next morning I woke up may be somewhere changed. Why don't you take a strange charming journey that you have not had so far? Let me show you from now. Now, please ….
---